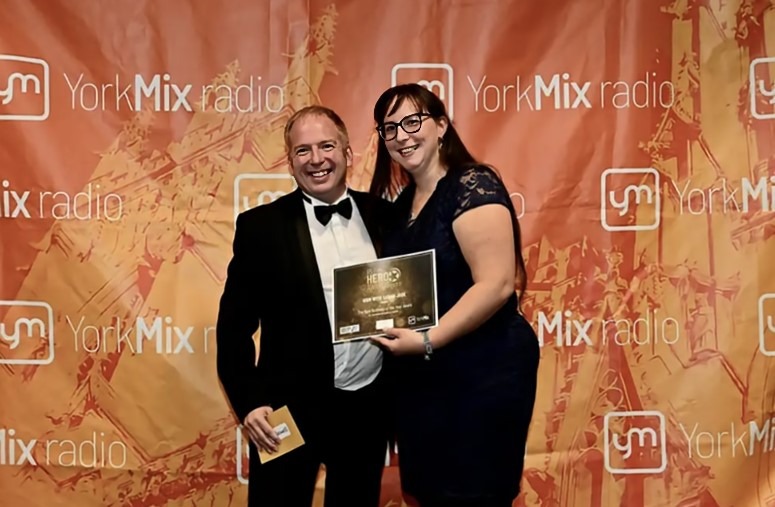 Today we're celebrating Sarah-Jade, one of our former participants on ATI who has just gone on to win York Mix Radio's New Business of The Year 2023 with her business 'Sign with Sarah-Jade'!
Sarah is a British Sign Language (BSL) teacher, who teaches a range of classes from babies to adults in York and Selby, and with the help of Up For Yorkshire and ATI, she was able to regain her confidence and pursue a career in teaching again. Sarah has kindly sent us a few words about her journey on the programme and beyond – you can read the full awards blog here.  
"I won the New Business of The Year Award. I'm thrilled. Thank you so much to ATI for giving me this opportunity to make this happen. This wouldn't have happened without your support.
Before ATI, I worked so hard to get BSL Level 6 and Teaching Qualification Level 3. I meant to work for a company who promised me work as a BSL Level 1 Teacher and work my way up, but she messed me about and I lost my confidence and faith in teaching as a result. I had 2 little ones since then, but I was so lost. I didn't know what I wanted to do in my life. I spent a few years looking into different careers where I need to start studying again, but this time the Government made it so much harder for Deaf people to gain 100% access to what they needed. I felt defeated and worked a few jobs while I was studying. I was debating whether to go into hairdressing, where I could choose the hours to fit around my children's schedules, but I knew it wasn't for me. My friend suggested I should go back to teaching again, but this time I knew it would be harder because no-one will employ a BSL teacher who hasn't taught in a few years.
Alison from ATI really helped me and made sure I received 1-1 support with the same person every time I came over to see her as I had anxiety. Alison understood me and accommodated my anxiety. At the start of my ATI journey, I felt like I had nothing to lose, and by end of ATI I felt stronger. I believed in myself and was excited for my future. Bryony also really helped me; she made sure I developed a network and helped me to research pros and cons of returning to teaching. She even called companies directly on my behalf when they didn't respond to emails. She really believed in me and helped me make this happen.
Now it's been 6 months since ATI finished, and Val, a grandmother who comes to my Toddler Signing classes with her grandson- nominated me for the award without telling me. I was one of the finalists. It was an experience to go to the Award ceremony and I won!! I won New Business of The Year 2023.
So, I wanted to say a big thank you to the ATI partners. Without you and ATI, I would be in a job I hate, and my hard work studying would have gone to waste. I would always be wondering 'what if', and I would not have the confidence I have now.  
Since I started my business, I have helped families to be able to communicate in BSL, making their lives a lot easier with less communication barriers. I've taught a nurse, a dance teacher, people who work with hearing dogs for deaf people- they all wanted to be able to communicate with deaf people. Since teaching them, they've come to me and told me they had the confidence to approach deaf people and have conversation with them! I was so thrilled!
This is because ATI made this happened- the world is becoming more inclusive. So I wanted to say a big Thank you!!! "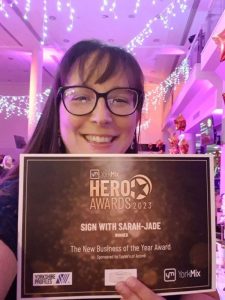 What an amazing accomplishment! Sarah-Jade's story is testament to the dedication of our delivery partners and the transformative ability of our projects. Check out our current projects RISE & Multiply to see what support we're currently offering. 
You can connect with Sarah Jade across Instagram & Facebook or contact her on [email protected].