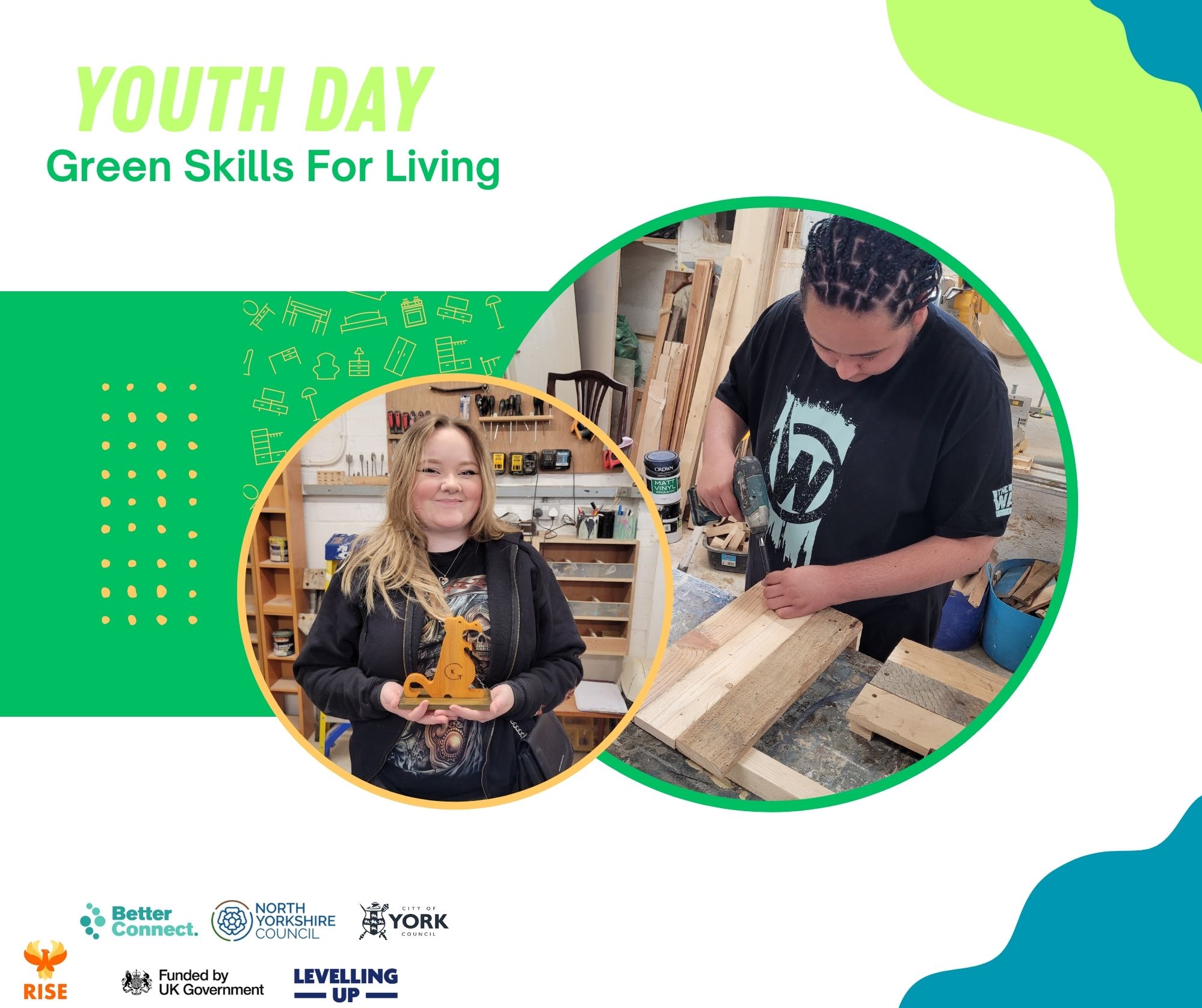 Saturday 12th August marks International Youth Day, and this year the theme is 'Green Skills for Youth: Towards a Sustainable World'. The United Nations define green skills as, ''knowledge, abilities, values and attitudes needed to live in, develop and support a sustainable and resource-efficient society''.
The UN report that 40% of all jobs are threatened by climate change and by 2030, 8.4 million jobs will be created by the 'green transition'
RISE is just one of the projects we offer where young people can access a host of support, from employment advice, to monetary, housing, and wellbeing provisions. Since May, the programme has so far supported 135 individuals, with 30% aged 16-24.
Futureworks, one of our partners on the RISE programme, have been supporting several of their younger participants with this move to a greener, more sustainable way of working and collaborating- encouraging them to get involved in Furniture Works.
A 'dusty yet welcoming environment', Furniture Works is a workshop space where participants and volunteers can upcycle preloved furniture and learn new skills. This is what one of Futurework's CEOs Michelle Padron-Kitching had to say about their RISE participants:
''They are all part of our workshop sessions, where they get involved with repairing, rejuvenating and upcycling donated furniture which would have otherwise gone to landfill. They also get involved with making wooden products, used from furniture that cannot be salvaged. Nothing goes to waste in our workshop. All furniture is sold onto the public through our Furniture Works shop with all proceeds returning back into the charity (…) our young people love getting involved and learning new skills.''
For these younger participants, the workshops not only offer chance to nurture their confidence and engage with their peers but enable them to develop a sustainably rooted skillset. They learn to handle tools, wood, paint, and customer relationships, but also navigate both their own independence and ability to work within a team to accomplish a shared goal.
''Max's confidence has been growing week by week and is looking towards going to college in September''
Futureworks are successfully equipping their participants with the 'green' skills they will need for the future, and learning about upcycling, restoration, and community engagement is a wonderful place to start.
To learn more about Futureworks-  Futureworks NY | Support for life, entering education or starting work.
To learn more about RISE- RISE – Better Connect