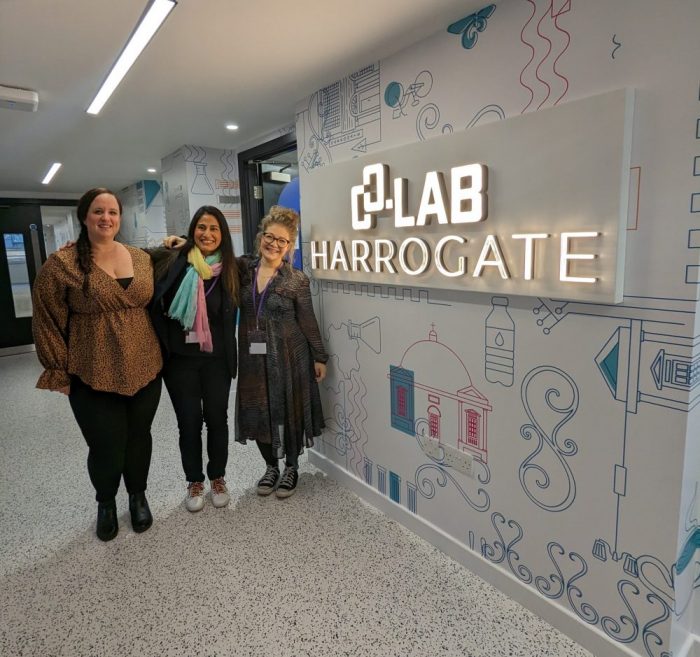 Today we had the amazing opportunity to speak at Harrogate's shared work space Co-Lab. Based in Harrogates Convention Centre, Co-Lab is dedicated to helping businesses grow and create more high-value jobs in the Harrogate district. It is delivered by Harrogate Borough Council, and supported by Leeds City Region and York & North Yorkshire LEPS.
The Co-Lab space is impressive, modern and light it had a great feel and energy! We were pleased to be invited to speak about our Thriving at Work programme to share how it could help businesses working from Co-Lab to thrive and have more inclusive and diverse workforces. We were honoured by the enthusiasm in the room and are excited to work further with the businesses we met today.
As part of our visit, Emma has written a blog article highlighting the importance of this programme and why it could be helpful to your business. Check it out below..
How an inclusive and diverse workforce can give your business a competitive edge.
Did you know truly inclusive businesses supporting workplace wellbeing and diverse workforces have a competitive edge and are more appealing to their clients and consumers, which in turn can make you more profitable and attract a wider breadth of talent to your workforce. Employees who are supported to thrive are happier, more engaged, creative, and innovative. Businesses and organisations who fully embed positive workplace practices and embrace a fully inclusive and diverse workforce also have lower sickness, absenteeism, presenteeism and staff turnover rates.
The terms diversity and inclusion are often used interchangeably; however, they are two distinct terms.
Diversity – Unique characteristics that include our cognitive skills and personality traits, along with things that shape our identity (e.g., race, age, gender, religion, sexual orientation, and cultural background). So essentially anything that can be used to differentiate groups and individuals from each other.
Inclusion – Focuses on the needs of every individual and ensuring that the right conditions are in place for each person to achieve their full potential. Inclusion should be reflected in an organsiations culture, practices and relationships that are in place to support a diverse workforce. It is important however to acknowledge that diverse employees don't automatically form and inclusive workplace, and individual differences can make it difficult for employees to feel valued or receive/take opportunities where they can thrive.
There are huge benefits of having an inclusive and diverse workplace culture that include;
Benefitting from a broader range of perspectives
Being able to recruit from a larger talent pool
Being able to understand your customers or end users better – the world is full of diversity.
Improvements in business innovation
Faster and better problem solving
Improvement in performance
Diverse and inclusive workplaces are able to reflect societies and their demographics more accurately, making your business/organisation more creative and profitable as a result.
Positive workplace cultures need to be embedded into the foundations of any organsiations or business. Employees/beneficiaries/clients/consumers who believe in your company values are more likely to stick around, be loyal and be true advocates of the services/products you offer. They are more likely to recommend and support recruitment to your business and will reflect this positive culture in all that they do.
Thriving at Work is a project that was designed based on some of the findings from the Thriving at Work white paper. We  believe that creating inclusive, accessible and healthy workplaces increases productivity and creates an environment where all employees can thrive. We (Better Connect) are offering fully funded, tailored support to Small and Medium sized enterprises (SME's) to help embed good working practices, inspire culture change, and celebrate workplace diversity.
Are you interested in making your business more inclusive?
If you would like to be involved in Thriving at Work get in touch with Emma on [email protected]!