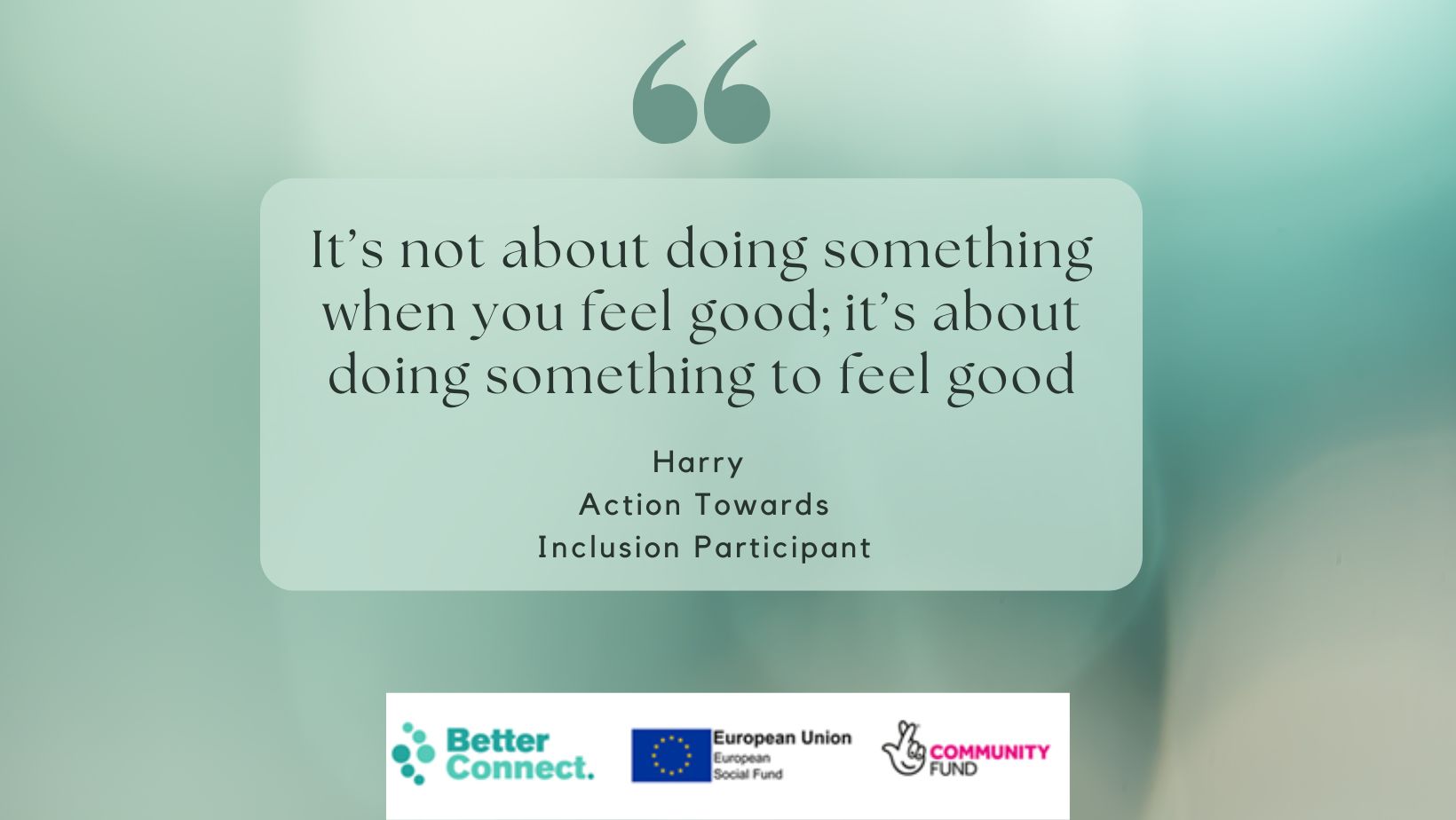 Laura works as the Participant Experience Coordinator on our Action Towards Inclusion Programme. She often reads and hears stories from the participants who access the support and has decided to share some of those in a blog series called 'ATI Participant Stories'..
Today we hear Harry's story!
Harry has been on Action Towards Inclusion (ATI) since February 2022 with Foundation UK- he's currently still being supported by wonderful keyworker Jenny, and YMCA support worker Lucy. It's reasonable to say that Harry has come a long way since he first started on the project with little knowledge about what it could offer. A few weeks ago, I had the pleasure of sitting down with him, asking a few questions, and getting to know his journey.
So, how was life before ATI?
Before joining the project, Harry was isolated, living rurally, and experiencing some profound mental health challenges. A string of difficult circumstances had knocked his confidence and left him without clear direction, feeling ''demoralised'' and ''demotivated'' in Harry's own words.
Following a gap year after leaving sixth-form, Harry began studying Psychology at York St Johns whilst commuting and working a partitioned milk-round. In the second semester of his first year, his employer failed to renew his car insurance and sold off his milk round, leaving Harry without work, transport, or any means of commuting to campus. Harry describes a couple of times how he'd tried to attend his course- cycling from Follifoot to Spofforth, catching the bus to Wetherby, and then Wetherby to York- but ultimately transport became too much of an issue and he stopped attending altogether.
After leaving his course and experiencing several housing issues, Harry unfortunately suffered a period of psychosis, and began working with several community teams alongside the YMCA and Foundation's housing team. It was through one of these organisations supporting Harry, that he was first introduced to Jenny and Action Towards Inclusion.
What kind of support has been provided on the project?
 Since February 2022, Jenny has supported Harry in re-evaluating and reassessing his original goals, ''carving a new path'' as Harry puts it. Regular catch ups and meetings have focused on confidence building, brain-storming, and practical support to overcome barriers – such a help with applying for a new driving licence and working on ways to keep busy and well.
When starting the project, the prospect of working again was a daunting one given's Harry's anxiety, but with Jenny's support, he began entertaining the idea of volunteering in the hope of steadily building his confidence, creating routine, and engaging with the community. He's now a regular volunteer at one of Oxfam's stores; sorting deliveries, steaming clothes, and working as part of a wider team.
Regular volunteering has expanded Harry's comfort zone, and he's since been able to resume occasional work for his uncle doing bathroom renovations. As it happens, Harry has a strong entrepreneurial streak, something increasingly evident when you speak with him. Off the back of experience gleaned from his uncle, Harry has been considering setting up his own business in power washing before moving onto other ventures (gold refining is a particular interest he speaks passionately about). He's keen to get his brother involved too and support those around him.
Prompting from Lucy and Jenny has also led to Harry re-awaiting an assessment for Autism and has seen him re-engaging with the community mental health teams in a more active way.
What has been the impact of ATI?
 According to Jenny and Lucy, Harry's attitude is remarkably different to a year ago, he's grown in confidence, is mentally more resilient, and is so much more proactive in his own life. There are more tangible differences too, with his volunteering and interest in self-employment, but it's the covert differences which have made way for these tangible ones.
Here's what YMCA support-worker Lucy had to say:
''The Harry I met a year ago is completely different to the harry sat here today, he's much more confident. How he deals with certain situations is a lot different now than he had previously dealt with them, he used to get worked up about things which now seem much smaller, and starting volunteering and getting involved in the community has been really beneficial. He's more active in the community (…) The staff at Costa know what he gets now- this is something he'd never have done before, gone out and sat in coffee shop alone, all these little things make such an impact in the long run''.
Here's what Harry had to say about his time on the project:
''ATI has helped stabilise me and get me on my feet. Before, I had the intention to do something but no willpower to go through with it.'' He describes ATI as ''catalytic in its approach'' in that it works with your existing skills and circumstances to help you instigate positive change in your life, but with the additional support: ''the whole point with the catalyst is that it's brought about positive change sooner with less stress''.
With ATI's support, Harry now feels ''more like a participant than an observer, more involved in living''.  His attitude towards his mental health is now markedly different too: ''it's not about doing something when you feel good; it's about doing something to feel good''.
A huge thank you to Harry for speaking so openly. To learn more about Foundation UK, click the link- Home – Foundation (foundationuk.org)   & keep checking in for more participant stories.